Top Ten Gemstones in Non Diamond Engagement Rings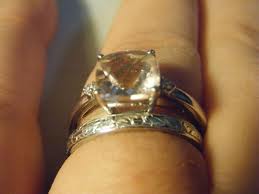 Generally, diamonds are considered to be the standard when it comes to engagement rings. More recently, non diamond engagement rings have become popular. Just take a look at all of the engagement rings that the major celebrities have. Many of these rings are not even diamond, but they are certainly still pretty. Here is a list of the top ten varieties of gemstones that can be found in engagement rings.
10. Citrine
The gemstone known as citrine is a variety of quartz with a color that ranges from pale to bright yellow to brown. Citrine jewelry is usually lab created from treating amethyst with heat. Citrine engagement rings range from pale to a very vivid bright yellow. The rings look amazing, and are incredibly unique.
9. Opal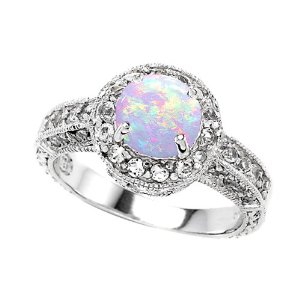 Opals are semi-precious gemstones that are related in form to quartz. The range of colors available to opal stones is very vast. Many tend to have more than one color, created by numerous minerals that are trapped within the gems. Due to the internal structure of these gemstones, opals can take on any color in the visible spectrum. Due to these qualities, opals can make an extremely gorgeous non diamond engagement ring. No two opals are exactly alike, allowing for a one of a kind ring.
8. Mother of Pearl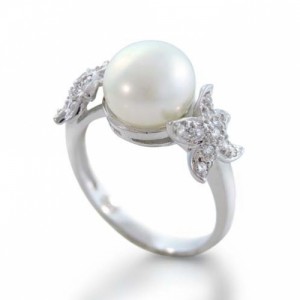 Mother of pearl is made up of a combination of organic and inorganic materials that are produced by some species of molluscs. The pearl can range in color from white, blue, brown, gray, and black. The surface is smooth and has an iridescent shine. Pearl rings have a vintage element to them. They are not used in jewelry as much as in the past. This makes a pearl engagement ring rare in today's standards.
7. Aquamarine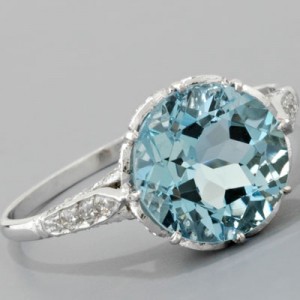 The gemstone aquamarine is a light blue gem that is very commonly found in jewelry. It is made of the crystalline mineral beryl, of which emeralds are the green form of this material. This gemstone is not as sought after as many of the more well-known ones, such as ruby, emerald, and sapphire. Regardless, the gem can be cut to fit into any setting. Aquamarine wedding sets are not commonly seen, but make a beautiful ring for the bride to be who does not want a diamond.
6. Moonstone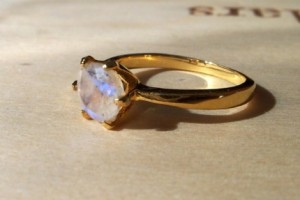 Moonstone is a gem made of feldspar, which is a gem that has been used in jewelry for centuries. Light diffraction within the layers of this stone causes the sheen that gives moonstone its name. Moonstone can be found in various colors including grey, blue, pink, white, brown, and green. This gem is an unusual pick for engagement rings, but the end result is a ring that very few own.
5. Amethyst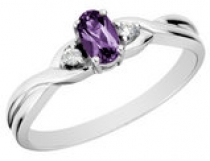 Amethyst is a gem made up of quartz. It is purple in color, but can also register a blue or red tint to it. It is very commonly found in many different jewelry settings. This gem can be found in both real and synthetic varieties, but it is almost impossible to tell the different without cost prohibitive and extensive testing. The color of amethyst makes it a popular alternative to the diamond in an engagement ring.
4. Topaz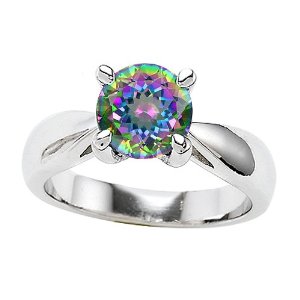 The topaz is a gemstone made of the minerals aluminum and fluorine. Topaz in its purest form is colorless and resembles the diamond. Impurities within the stone can cause it to be a variety of colors including blue, green, yellow, gold, pink, grey, orange, and brown. Topaz is a very popular stone, but with all of the possible varieties of colors; it can make a great non diamond engagement ring.
3. Emerald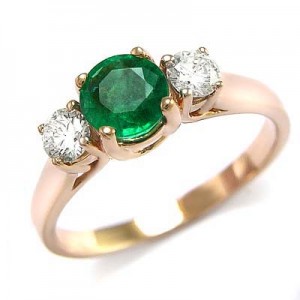 The precious stone emerald is made up of the mineral beryl. The emerald is green in color, but rare forms can be red. Emeralds are considered to be a very brittle gem. A majority of them found in the jewelry market are treated to improve color and clarity. Most experts suggest that a full treatment report is included when purchasing a more expensive emerald. Synthetic stones can also be purchased, which have the same properties of their natural counterparts. Due to the precious nature of the emerald, they make a popular centerpiece for the engagement ring.
2. Ruby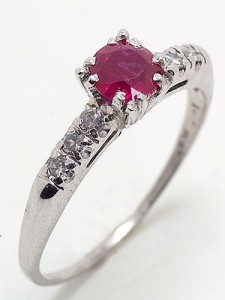 The gemstone ruby is a red stone that is made up of the mineral corundum. It is one of the precious varieties of gemstones that include diamonds, emeralds, and sapphires. The ruby is very commonly seen in all types of jewelry. Gemstone engagement rings are not as commonly found with the ruby. Good quality rubies are a very deep red color and cost a small fortune. Those who love the color red would be delighted with the beauty of a ruby as the centerpiece in an engagement ring.
1. Sapphire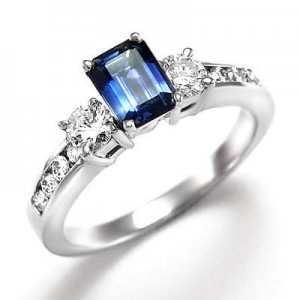 Sapphires are a precious gemstone made up of the mineral corundum. A sapphire is well known as a deep blue gem, but can also be found in other colors such as pink and green. Red corundum is known as a ruby, which was number two on the list. These stones are one of the most common found in jewelry settings. They can be both natural and lab created. Using sapphires in non diamond engagement rings, has long been a very popular and beautiful choice.