Top Ten Gold Wedding Shoes to Sparkle Under Your Dress
Gold wedding shoes are great for pairing with a gold wedding dress, a wedding dress with gold trim, or simply to add a little sparkle under the dress. Gold shoes can be a great choice for any bride but there are many styles to choose from so you should think carefully, think about the heel height, and about what kinds of shoes you can wear. For example, many women have slightly different sized feet which can make pumps difficult to wear, and since you do not want one foot to be slipping out while you walk down the aisle so you have to make sure they fit properly.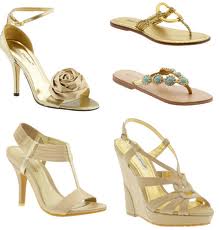 10. Gold Pumps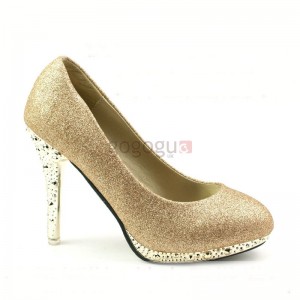 Gold pumps are a classic choice for any bride. Pumps come in a range of heights, sizes, and prices, and if chosen correctly, can be worn for years to come to events other than weddings. A good pair of gold pumps fits properly, has a heel height you can walk in, and hopefully has a little extra room in the sole for foot pads that will keep your feet from hurting on your special day.
9. Glitter Shoes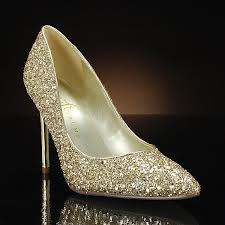 Glitter isn't just for the disco; it's great for your wedding to. Try pairing glittering gold shoes with gold jewelry and a smile for a perfect flash of sparkle at your wedding. Choose your glitter shoes with care as some do look a little tacky.
8. Ankle Strap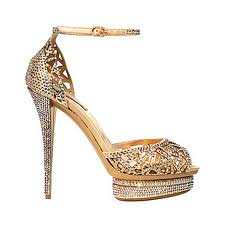 Ankle straps are present on pumps and some sandals so you can pick and choose as you like. Ankle straps are probably not going to be seen under your dress but do give you a bit of added support and help your feet to stay in the shoe. Plus sized ladies should watch out for small straps though.
7. Gold Wedges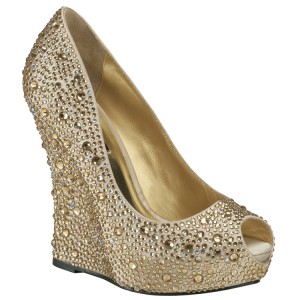 Wedges might not be first on your list for elegance and beauty, but they do add height comfortably. Wedges are easier and safer to walk on than heels so you can enjoy your sexy shoes in comfort. Best of all, wedges come in almost every style from sandal to lace-up, so you can choose your favorite style of shoe.
6. Gold Ballet Flats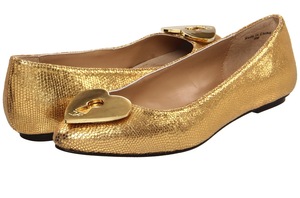 Heels aren't for everyone but that doesn't mean you can't enjoy a little sparkle at your wedding. Gold ballet flats are beautiful, shiny, and very comfortable. These are great for anyone either not comfortable in heels, or who is the same height or taller than their husband-to-be.
5. Slingback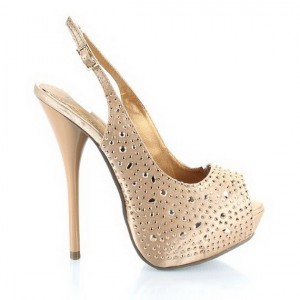 Slingbacks are a classic adaption to the pump but offer better security because they are less likely to slip off. If you have great heels, you can also show off your feet this way. You should watch out for choosing slingbacks that are too tight or too loose as they can abrade your heel.
4. Gold Sandals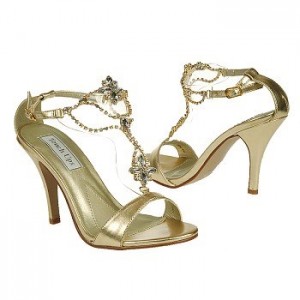 Sandals are great for a beach or outdoor wedding in the summer and many of them come in lovely shades of gold. Consider ankle straps, decorations on the toe straps, and even flip flops for very casual weddings.
3. Peep Toe Gold Shoes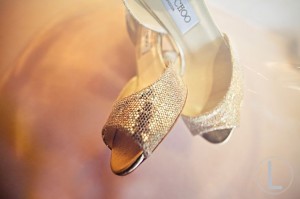 Peep toes are always cute and you can add a little more cuteness by painting your toenails gold to match. The look won't be immediately obvious under the dress but it will certainly catch some admiring attention. Peep toes are feminine, cute, and less warm than closed toe shoes.
2. Kitten Heels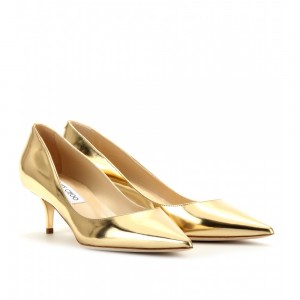 If you don't want to be taller than your husband to be, can't walk on high heels, or simply don't want to hurt your feet, kitten heels might be just the thing for you. Kitten heels are usually an inch or less in height which means that you can almost walk on them normally. These heels add a little lift to your legs and rear without making it difficult to walk.
1. Strappy Heels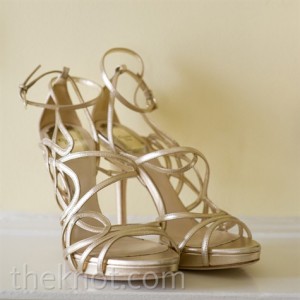 Strappy heels take the number one spot on the list of top ten gold heels for your wedding because they are beautiful, classy, sexy, and perfect for most occasions. A good pair of strappy heels will take you anywhere so you shouldn't mind investing in a beautiful designer pair that you will love. After all, it's your wedding and you deserve it. Strappy styles range in height and strap pattern so you can choose virtually any style you like.
There are plenty of gold wedding shoes for you to choose from so make sure you take your time, look around, and choose something that you absolutely love!