Top Ten Inexpensive Bridal Shower Favors for Showing Guests You Care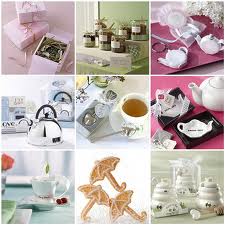 Inexpensive bridal shower favors are all the rage these days. Brides-to-be want to say a special thank you to friends and family for sharing in such a special day. Finding the perfect inexpensive gift does not have to be a difficult or expensive task. Bridal shower favors can range from handmade items to items purchased in bulk. They can also be completely random or stick with a theme. Either way, bridal shower favors, even inexpensive ones, are not hard to come by.
10. Personalized Favors
For the bride-to-be, adding a personal touch to a gift may be right up her alley. There are thousands of websites online that offer the bride the opportunity to choose gifts that fit each guest and personalize it. This may be putting their full name on the item or just their initials. Common items to personalize as a bridal shower favor include tea bags, measuring spoons, wine glasses or pens.
9. Themes
The bride may have a specific theme in mind when it comes to her wedding and therefore, her bridal shower favors. To make them inexpensive she could incorporate flowers, fruits or even vegetables into her gift. The bride can put together a little gardening basket for each of her guests. Finding out beforehand what each guests favorite flower, fruit, and/or vegetables are to plant in their own garden, will make it even more special.
8. Spa and Beauty
Some brides love to pamper their guests. For these types of brides, putting together a little basket that incorporates spa items the guest can use at home will be certain to make the receiver smile. Some of these items may be a bath scrub, body wash and face mask. The bride could also incorporate specific scents, gift cards or even arrange for a free facial or massage for each guest.
7. Jewelry Bridal Shower Favors
Jewelry comes in all shapes and sizes making them a perfect gift. The bride-to-be may choose to give her guests a jewelry item to wear to the wedding. This may include an inexpensive broach, ring, earrings or necklace. Adding to the personalization above, the bride may personalize the item by adding the date of the bridal shower and the initials of the guest.
6. Bridal Shower Keepsake Favors
Every bride wants her bridal shower to be one that is remembered. One way to accomplish this is by giving her guests keepsake favors so they will never forget that special day. Keepsake items may include a picture of all the guests printed and framed the day of the bridal shower, or a plaque or coaster to remember the day.
5. Recipe and Kitchen Favors
Another great favor the bride-to-be can give her guests are things that are handy in the kitchen. These may included her all time favorite recipes, or ones passed down from her mother and grandmother. To make it even more special she can put the ingredients together and add to it some simple cooking utensils. This may included measuring cups and spoons, rubber spatulas and a wooden roller.
4. Gift Cards Can be Inexpensive Bridal Shower Favors Too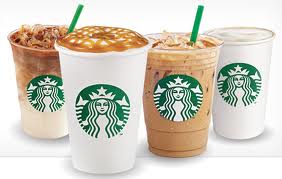 Some brides may become nervous at the idea of giving her guest a gift card for coming to the shower, as they then know exactly what was spent on them. However, there are many sites that sell gift cards that have more credit on them then they cost. Many companies sell gift cards in small amounts of $5 to $10, which will help keep the bridal shower favors inexpensive. The bride can find out what her guests like and buy a small gift card for them to their favorite coffee house or movie theatre. She could even set them out and have each guest choose one as they enter or leave the shower.
3. Scents and Candle Favors
Another popular gift the bride-to-be can give each guests are candle's in their favorite scent. Candle sizes vary and can be bought fairly inexpensively. Meltable scents are also a great option to give to each guest. If their favorite scent is not known, the bride-to-be can lay them out for each guest to choose their favorite scent as they arrive or depart.
2. Snack Related Favors
An all time popular and also inexpensive bridal shower favor, is a snack item. This may include little decorative boxes filled with nuts and candy or canning jars filled with cookie or brownie mixes. The bride-to-be could even fill the jars with cocoa or cappuccino coffee mix. The pre filled boxes can be snacked on throughout the shower or can be saved for home.
1. Homemade Gifts from the Heart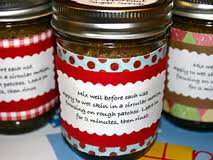 Many brides-to-be are savvy crafters. The bride can put a personal touch on a gift and feel pride in making the gift herself. One homemade bridal shower favor the bride can make is a body scrub. Another homemade favor could be a little book or framed writings on how she knows each guest and what they mean to her.