10 Ideas for Green Flowers in Wedding Arrangements
When a bride picks her wedding colors, she wants to use flowers that match those chosen hues. Blooms come in a multitude of hues to match any shade. To order blossoms for your special day, you can visit the local florists that can be found in a local phone book or with an easy online search. Online floral web sites including Fifty Flowers have fresh green flowers. Craft shops such as Hobby Lobby carry silk flowers to use in arrangements. Several blooms are available in green for use in your special day.
10. Gladiolus
The showy pale green gladiolus is a beautiful choice for any bridal arrangement from bouquet to centerpiece. The long stems have blooms from the top to bottom making them ideal for tall displays. Each stem has about 10 to 12 blooms along the length. They symbolize infatuation and sincerity. Gladiolus can be purchased at web sites including Fifty Flowers.
9. Carnations
Another idea for showy green blooms is carnations. The traditional flowers feature a full, ball-shaped bloom with a ruffled appearance. Each stem has one bloom on the end that is about 2-inches in diameter. Carnations come in a pale almost creamy green color from Fifty Flowers and many local florists can dye the flowers and tip the ends of the petals green.
8. Freesia Spray
A brilliant lime green freesia spray works in bouquets as well as other bridal displays. A silk freesia spray is available at Hobby Lobby, which has a realistic look with attention to detail. The silk spray has four blooms and leaves on the stem. When used as fillers, these bright flowers add charm as well as color to any centerpiece or bouquet.
7. Craspedia Billy Balls
To add a unique and fun look to your bridal arrangements, you can add green Craspedia Billy Balls as filler flowers. Each bright green stem has a green round ball on the end that is from 1-inch to 2-inches in diameter. The stems are about 14 inches in length of these pom pom types of flowers that you can find at Fifty Flowers.
6. Hydrangeas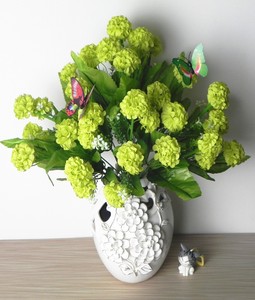 Hydrangeas are full round clusters of blooms that come in a variety of hues including green. This showy specimen is a popular wedding flower. Whether you use silk hydrangeas found on eBay and Hobby Lobby or fresh blooms, they will enhance any bouquet, centerpiece, or altar flower display. They can be used as focal flowers as well as fillers or accent flowers.
5. Cremom Mums
The full and soft petals of the green Cremon Mum make it an ideal choice for wedding flowers. The petals are long and lush opening from the center. Each stem has a single bloom on the end and each blossom adds charm and texture to floral presentations. These green beauties from Fifty Flowers are tinted green by placing the stems in dyed water.
4. Mini Pineapple Flowers
An idea for destination wedding is the mini pineapple flower found at Fifty Flowers. The tropical flowers look like a miniature pineapple with thick stem of green buds and the spiky crown at the top. The Eucomis Pineapple Lily flowers make ideal focal flowers in bouquets and centerpieces. They add a stunning effect for ceremonies and are available from August through September.
3. Daisies
A mint green daisy adds bright color to any reception centerpiece, bouquet, or presentation. Daisies come in a variety of green shades from the bright mint green to deeper shades. Centers of the pretty petals range from green to yellow. Fifty Flowers carries several green daisies that would add showy appeal wherever it is used.
2. Calla Lilies
Calla Lilies are another idea of a green bloom for weddings. They come in several shades of green from light green to apple green and are available as fresh or silk blossoms. The large trumpet shaped blooms are a favorite of brides. These impressive flowers look spectacular in any grouping or tied with a ribbon and carried in your arms.
1. Roses
Roses are a popular choice for any bridal bouquet, presentation, or grouping. Roses that are tinted green make a striking addition to any floral display for your ceremony or reception. Fresh roses are tinted in various shades of green that range from creamy pale green to deeper tones. Green silk roses have a realistic look and they will look lovey in a vase or bouquet. Both types of rose are available as open blooms or buds for all your bridal needs.