10 Styles When Choosing a Wedding Aisle Runner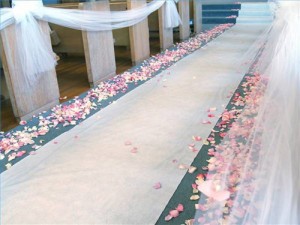 When couples are planning their wedding, there are many decisions they need to make. One decision is whether they will use a wedding aisle runner. Most couples use these items for both semi formal and formal ceremonies. A runner provides an elegant touch to the processional and recessional. Typically, the ushers or groomsmen unroll the runner creating a white path for the bride. There are different types of runners from plain to decorative. If you decide to use one of the charming accessories for your special day, you will find them at several online locations that include eBay, Oriental Trading, and Wedding Shop USA. Some bridal shops and their web sites also carry these items including David's Bridal.
10. Etsy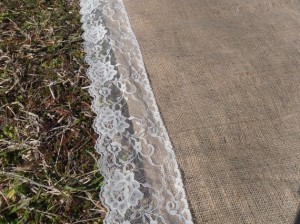 One type of custom runner that you can purchase for your ceremony is made of burlap with lace edging. The handmade runner is 20 feet in length and the lace is available in white or ivory. This is a decorative and unique accessory for your big day. It will compliment any rustic, vintage, or outdoor ceremony. You will find this charming custom item on the Etsy web site.
9. eBay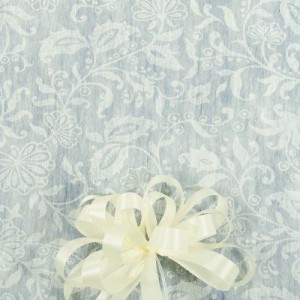 If you need a longer runner for your aisle, this 100-foot white floral lace runner includes tape and rope and is an ideal choice. The elegant runner is made of a print rayon fabric. The Sure Sta adhesive strip is on the underside so you can attach it to the base of the altar. Ushers are able to unroll the runner with the braided white pull rope. This lovely runner is available on eBay.
8. Amazon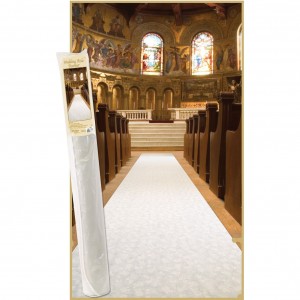 One option for a 100-foot runner is this pretty Elite Wedding Runner. It is made of white felt that has white roses imprinted on it. A white nylon cord is used to unroll the runner. Included with the item is double-sided stick tape to help secure it in place. This beautiful runner is available on the Amazon web site.
7. Oriental Trading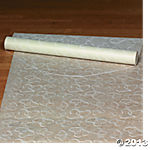 This romantic runner will decorate the aisle with hearts. The white runner is adorned with double hearts that are entwined in various sizes. It is 100 feet in length making it ideal for a long aisle. This Two Hearts Wedding Runner is a simple way to create a unique bridal path. You can find this decorative runner on the Oriental Trading web site.
6. Party Cheap
A lovely floral pattern of flower petals adorns this durable White Wedding Runner. This unique runner can be used for both inside or outside ceremonies. Double-sided tape comes with the spun poly runner to hold it in place when you unroll it using the braided cord. You can find this floral printed runner on the Party Cheap web site.
5. Wrap With Us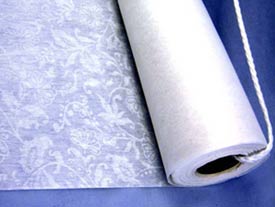 This elegant Suresta French Lace Wedding Aisle Runner is 75 feet in length. It is 36 inches wide to fit any aisle. With a delicate floral pattern, it offers a romantic path for the bride. The lovely accessory has an exclusive weave design to ensure it will lay flat. The material is heavy duty as well as tear resistant making it an ideal choice for any location. The Wrap With Us web site has this charming runner available.
4. Wedding Shop USA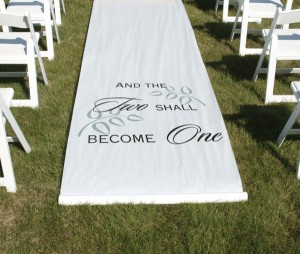 The Two Shall Become One Runner is made of white fabric. The runner is imprinted with the message "and the Two Shall Become One." The wording is done in black. The romantic message is adorned with grey leaves and it faces the back of the aisle. You can find this unique 100 foot long runner on the Wedding Shop USA web site.
3. Linen Tablecloth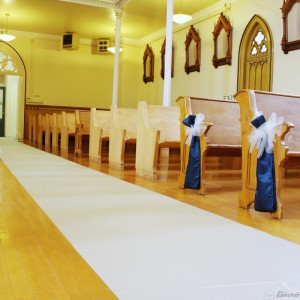 This lovely white wedding runner is made of satin polyester. The beautiful material will add a glamorous path for the bride. The 100 foot long runner has unfinished edges. You will find this simply beautiful runner on the Linen Tablecloth web site.
2. David's Bridal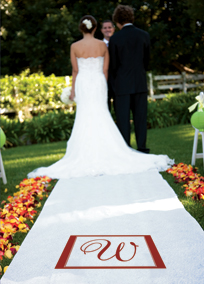 The DB Exclusive Personalized Initial Runner is semi-sheer. The semi-sheer Victorian scroll is white on white. You can personalize it with your initial for an elegant bridal path. The runner comes with a pull cord. It is made of a stiff cotton-polyblend material. This personalized runner is available on the David's Bridal web site.
1. Exclusively Weddings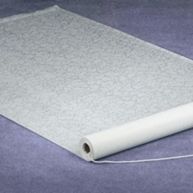 This Elegant Aisle Runner features a subtle and charming flower pattern. The runner is made of SureSta lace. It has a silk-screen lace pattern and a lay flat weave that stays in place with the included adhesive strip. A braided rope is included to unroll the runner. You can find this lovely runner on the Exclusively Weddings web site.