10 Wedding Day Quotes For The Wedding Toast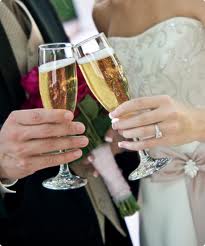 Most modern weddings have the traditional toast that is spoken by the wedding party. The toast is normally directed to the bride and groom, sometimes the bride and groom like to toast their family and friends, as well. The toast doesn't have to an overwhelming experience. Using one of the wedding day quotes below can help ease the tension.Sharing a wedding day quote is one of the best ways to share humorous advice and love on a couples joyful day.
10. Allow William Shakespeare To Help Out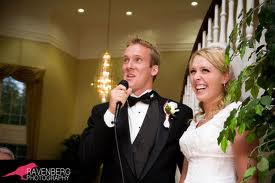 "My heart is ever at your service." – William Shakespeare
This quote is perfect to capture love and optimism on a joyful day that a wedding can bring. This is a great quote that a bride or groom can say to one another. It shows their new partner that they are there to service and commit to their relationship.
9. Let The Bridesmaid Tell It All
"You don't marry the person you can live with… you marry the person you can't live without." – Unknown
When the bridesmaids stands up and tells the bride and groom this quote, it is sure that they will both blush and have butterflies in their stomachs. Nothing is better than letting them know that they made the right decision to tie the knot.
8. Father Of The Bride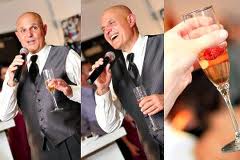 "It is written, when children find true love, parents find true joy. Here's to your joy and ours from this day forward." – Unknown
Father knows best, so why not make sure the bride and groom know that they have the father's approval of this joyful moment. Fathers of the bride have a lot of emotions on their little girls wedding day. It is a time in her life that the father has to let go a bit and allow her to make a new life for herself.
7. Allow The Bible To Speak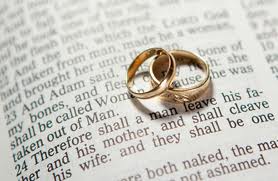 "Love never gives up, never loses faith, is always hopeful and endures through every circumstance." – -1 Corinthians 13:7
Many traditional weddings have religious views that are put into the wedding. This is a heartfelt quote from the bible that tells the bride and groom that no matter what, marriage will take work and commitment, through bad and good times. This quote is also popular among those that are non-religious.
6. The Bride Can Have A Humorous Side Too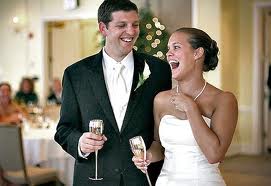 "He stole my heart… So, I stole his last name." – Erika Thornhill
This is a great quote for a bride to say to her husband, if they both enjoy a little humor. This famous wedding quote has been seen on many wedding pictures. This is a simple and humorous way for the bride to tell the groom how she is happy he stole her heart.
5. A Laugh For The Bride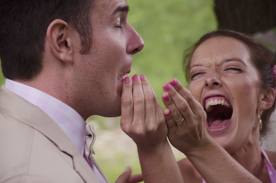 "Sexiness wears thin after a while and beauty fades. But to be married to a man who makes you laugh every day, ah, now that's a real treat." – JoAnne Woodward
This advice is more true than anyone can ever imagine. Marriage starts off with a honeymoon, but that can soon fade. Sometimes a little bit of laughter is the best medicine in a hard time. So make a toast and share the secret!
4. Persistence Is The Key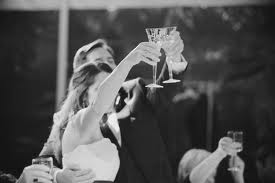 "A successful marriage requires falling in love many times, always with the same person." – Mignon McLaughlin
This quote is great for anyone to toast. It can even be said by the mother of the bride or grooms best man. Short toasts like this one are often the best to stick too. No matter what, it's a serious quote with a touch of humor.
3. To All That Is To Come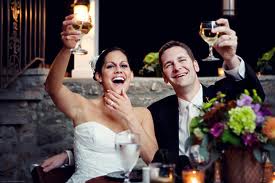 "Grow old with me. The best is yet to be –the last of life which the first was made."
–Robert Browning
This one of the best wedding quotes ever toasted. It is by a Victorian poet that also shared in another famous quote or poem "that the best memories are yet to come". So join hands and start the memories together, just as Robert Browning suggested.
2. The Golden Rule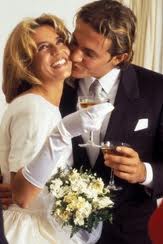 "To be happy with a woman, love her alot and do not try to understand her." – Chikku George
Yes, this is the best advice a best man can give his best buddy that has just tied the knot. The reason he married her was because he loved her for her strengths and weaknesses. This quote should be one that he remembers for a long time as it will certainly help their marriage if he does.
1. Final Words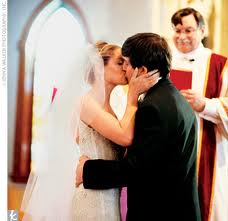 "You are now Husband and Wife." – Priest
Even though it is not a toast that will be said at the reception by the wedding party, it is a very important quote on the big day. It is the final words that make it all official. With this being said, it should stand in the number one spot.