Ten Gorgeous Garden Style Wedding Dresses
Garden style weddings are filled with beautiful trees, greenery, and flowers. The weather is perfect, the sun is shining, and you have chosen the perfect setting and décor for your fairytale ceremony. Now, you must find the perfect dress for your garden wedding. Before you begin shopping, think about the theme you chose for your wedding. Was it whimsical, vintage, or ethereal? What colors did you choose? These are all things to consider when choosing your dress. You certainly don't want to choose a modern wedding gown for a 1920s themed wedding do you?
10. Column Sweep Wedding Dress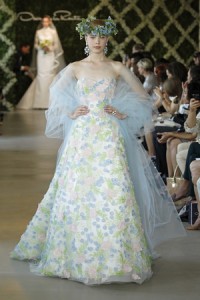 The column sweep dress is magical with a sweeping train and easy fluid lines. The arms boast a beautiful lace embroidered sleeve from shoulder to elbow with flowing fabric. The neckline is a sweetheart shape and the fabric is light enough to wear for a summer wedding. The design of this gown lends its creation to a gypsy influence and would be perfect with flowers in your hair.
9. A-Line Knee Length Wedding Dress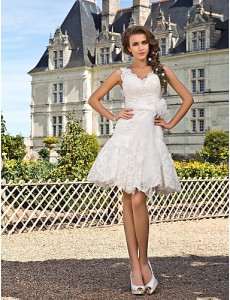 The A-line style of dress is flattering for any figure. This dress in particular combines the flattery of an A-line dress with a subtle v-neckline and knee-length style. Lace and ruffles add a touch of elegance to this style, or you can wear a gown that is plain and simple. Intertwining flowers in your hair will continue the garden theme of your wedding.
8. Ball Gown Wedding Dress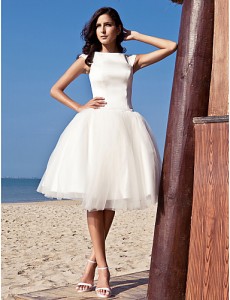 What better way to feel like a princess on your big day, than to wear a ball gown wedding dress? This type of dress is perfect for garden weddings because it has a retro vibe to it with the hemline falling just below the knee. The skirt is reminiscent of a ballerina with layers of organza and a tulle petticoat. The bodice of the dress is simple yet incredibly elegant.
7. Chapel Train Wedding Dress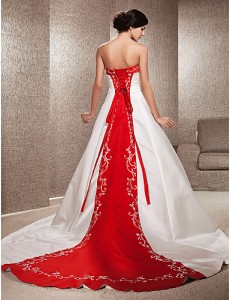 An A-line strapless gown with long chapel train is absolutely stunning in a garden setting. The simplicity to the lines of the dress is in stark contrast to the main feature of the elongated train. Add in a splash of unexpected color like red or green, and some sparkle and you have the perfect evening garden wedding gown.
6. Ankle Length Chiffon Wedding Gown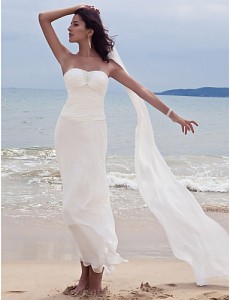 A straight ankle length chiffon wedding gown is so simple yet so elegant. A ruched sweetheart neckline that is form fitting segues into a straight skirt. Add a long sheer veil and the look is perfect for a garden wedding and the party afterward.
5. Organza and Lace Wedding Gown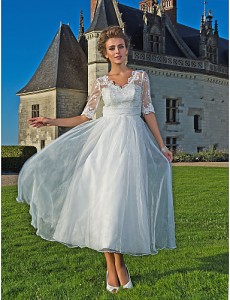 An A-line V-neckline ankle length dress such as this one harkens to a fairytale garden tea party for two. The lace shoulders and sleeves segue into the v-neckline with scalloped trim. The skirt is sheer layers over lace. Wear your hair piled on top of your head with flowers and peep toed shoes.
4. Bohemian Wedding Gown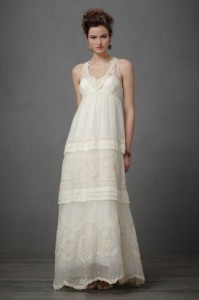 If your garden wedding has a vintage theme, then this type of gown is perfect for your celebration. Hand-beaded flowers and bohemian designs decorate the bodice of this garden dress. An empire waist adds to the carefree bohemian feel of the dress with a long flowing skirt cascading from the fitted bodice of the dress.
3. Hand beaded and Embroidered Taffeta Gown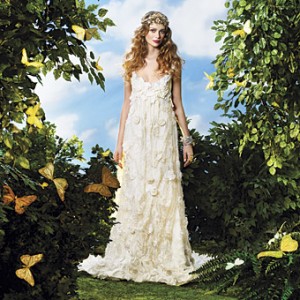 A hand beaded and embroidered taffeta gown is a fairytale garden wedding dress. Layers of taffeta meet embroidered fabric and hand beaded detailing in this type of dress. Add a hand embroidered veil and flowers around the crown for the perfect fairytale ending. Swarovski crystals add sparkle to the train of the dress as you glide down the aisle.
2. Elegantly Detailed and Tiered Skirt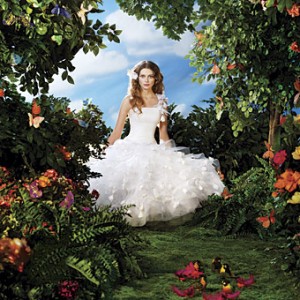 An elegant dress with detailing and tiered skirt will make the bride feel like a princess at a ball. Detailed shoulder strap and fluffy skirt are reminiscent of Swan Lake. Add some feathers or flower petals to the dress for interest. Wear your hair long and flowing with a flower tucked in behind your ear. Shoes are optional with this dress.
1. Wedding Dress with Floral Detail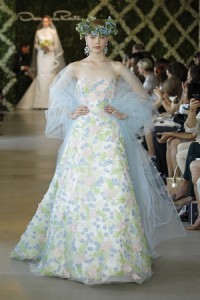 A wedding gown with floral detail is gorgeous for any setting, but most especially for a garden wedding. Add a pastel taffeta wrap to the ensemble for elegance and a snap of color. Choose the floral detail in your wedding colors for a color coordinated event.