The 10 Most Popular White Wedding Flowers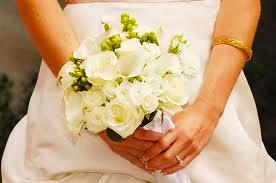 Nothing says "wedding" more than a beautiful bouquet or arrangement of white wedding flowers. White wedding flowers have been used throughout history as symbol of purity and the oath of marriage. Many brides choose to use all white wedding flowers to add a dramatic yet simple effect to their wedding. Flowers can be used individually to showcase the flower or arranged together to create an eye catching and breathtaking arrangement.
10. Mum
The Chrysanthemum, or Mum is a simple white flower that offers diverse petal layers. Its stem is stocky and can easily be inserted into bridal bouquet foam or carried by tying the stems with a simple lace or satin ribbon. Mums can be found in all white, white with a touch of yellow or in shades of purple, pink, and red. As a white wedding flower, Mums can represent fidelity, longevity and joy. Mums are also the November flower of the month.
9. Peonies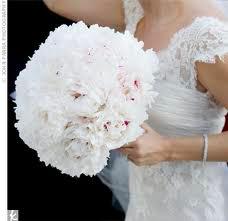 Fresh Peonies make a wonderful bouquet, arrangement or even a boutonniere for a wedding. Peonies are dense, fragrant flowers that are typically in season in June and July. Peonies symbolize prosperity and honor. White Peonies have a hint of light pink towards their petal center.
8. Tulips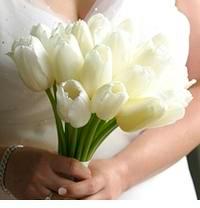 As the symbol of purity, white Tulips are used throughout wedding arrangements. As a simple handheld bouquet or as an elaborate centerpiece, Tulips add a wonderful touch to a wedding. A Tulips petal can come in a variety of shapes, including oblong or feathered. Florists try to provide white Tulips year round by purchasing them from greenhouse growers.
7. Orchids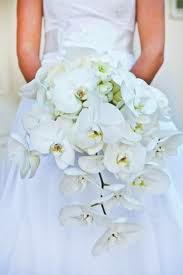 The Orchid is a mysterious and captivating wedding flower. Through a single stem, white Orchid varieties like Phalaenopsis, offer a hint of glamour and sophistication to bouquets and centerpieces. Orchids are very widely used in arrangements for brides who have flower allergies. As a symbol of purity, virtue and beauty, the Orchid is very fitting for any type of wedding arrangement.
6. Lily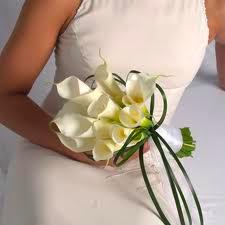 The Lily, or more specifically the Calla Lily, is one of the most commonly used Lilies in weddings. Calla Lily's are single stem flowers with a broad base. They are often used as a single flower with stem tied with a bow for bridal arrangements. The Calla Lily symbolizes beauty and grace.
Another variety of Lily used in white wedding arrangements are Oriental Lilies. These large six petal flowers enhance bouquets and centerpieces with their coverage and versatility. Oriental Lilies are also very fragrant.
5. Carnation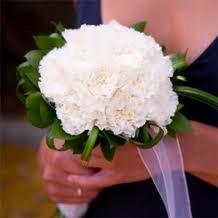 Another widely popular and often used flower for weddings is the Carnation. White Carnations have a sturdy stem and keep their shape when used in bouquet or centerpiece arrangements. Wedding planners like using white Carnations especially because they can be easily tinted to match the bride's colors if so desired. The Carnation symbolize pure love and are the flower of the month for January.
4. Narcissus Paper White Flower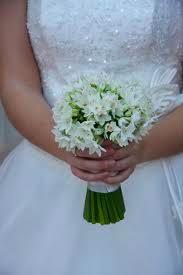 Gaining popularity in recent years for use in wedding arrangements is the Narcissus Paper White flower. You may recognize these flowers from Christmas or holiday planters. These delicate, yet fragrant white flowers can be grown in containers and cut as they begin to bloom. The flower blooms come in varying white shades, from pure white to off-white. Narcissus Paper White flowers are part of the Daffodil family and are a symbol of faithfulness.
3. Baby's Breath
Baby's Breath is used in almost any wedding arrangement as a filler flower, but can be used as a stand alone white wedding flower too. Its tiny white bloom is hardy and can tolerate cold temperatures. Growers of Baby's Breath cultivate and cut the stems when the flowers begin to bud. This results in green tinted Baby's Breath blooms that have not opened. Baby's Breath is symbolic of merit and virtue.
2. Daisy
Daisy flowers come in a wide variety of shapes and petal sizes. Gerber Daisies are single stemmed with large blooms that are perfect for a simple hand tied bouquet. Sunshine Daisy and Prairie Daisy flowers are small compact flowers that can be incorporated into wedding arrangements by themselves or with other flowers. The Daisy symbolizes cheer and happiness, which is perfect theme for a wedding.
1. Rose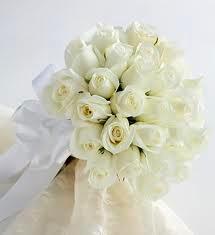 "A rose, by any other name would not be the same..", and neither would a pure white Rose. White Roses are the most popular of the white flowers used for weddings, and thus our number one in our top ten white wedding flowers list. From small budding roses to large blooms, the Rose creates a sense of love and admiration in a wedding arrangement. White Roses are symbolic of purity and newness in weddings. Many brides choose to only use White Roses amongst all other flowers due to their beauty.