The Top 10 Great Styles for Mother of the Groom Dresses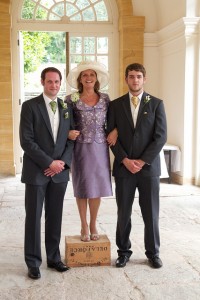 The big day is coming and you have nothing to wear. The big day is your son's wedding day. You have nothing to wear because it is a very special occasion and you want the right dress. You want to look nice for you son and his wife to be. This will be the last day that he is your son, because he is going to be someone's husband after today. Therefore, you want to look beautiful for him on this very special occasion; you want your son to be proud of you. Luckily for mothers, there are several styles of mother of the groom dresses they can choose from. Do not be fooled when a dress is labeled for the brides' mom, it can also be for the groom's mom.
10. Mother, Not Matron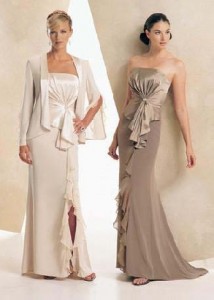 You may be a mom, the mother of the groom and eyes will be on you for the big day, but this does not mean you have to dress like a matron. With the many styles available in mother of the groom dresses, you can find a fun dress and still look nice for your son. Many styles of mother's dresses are strapless with a jacket. They have a split up the front for a fun, happy to embrace the day, kind of look. The floor length dresses have a more formal, yet still fun, appearance. Any groom would be proud of his mother in one of these style dresses.
9. Room for Dancing
If you plan to spend time on the dance floor, you may want to find a dress that will allow you to move freely. Floor length dresses with full skirts are great for dancing. You will look graceful and beautiful when you share the mother and son dance with your son. The material falls gracefully to the floor and gives you a swirling effect as you trip the light fantastic.
8. Ruffles, Ruffles, Ruffles
If you like frilly things, these dresses with ruffles are for you. Floor length or tea length, the ruffles surround your body as they layer down the skirt of the dress. The ruffles give a hint of fun to your look, as you move the ruffles move around you for a one of a kind look.
7. The Formal Style
If your son is getting married in the evening, you may want to go with a traditional formal style dress. Many weddings are formal, but an evening wedding just needs that extra touch of elegance. A more traditional style dress for the mother of the groom is appropriate for formal evening weddings. You can choose from full or narrow fit, sleeves or no sleeves, and jacket or no jacket, as long as you choose a dress that shows an elegant formal style.
6. Afternoon Tea Length
For afternoon weddings, you can choose a more casual dress style that does not go to the floor. There are many tea length dresses for the groom's mother. The light and airy types of tea length dresses available will surround you in softness. The tea length dresses fall gracefully below the knee and some have uneven hems to give them a hint of fun.
5. Bare Those Shoulders
Not all moms are comfortable wearing sleeveless dresses, let alone a dress with nothing on one shoulder. Some women do not think they can carry it off. Remember, you are a mom who has weathered the teenaged boy years; you can carry off this dress with dignity and grace. Dresses with one strap and one bare shoulder are a fun choice. The dresses come in short or long styles. Your son will love seeing you happy and ready to celebrate his big day in a fun dress.
4. Black Is Not Always Sad
Over the years, black has become an acceptable color for mothers to wear to their sons weddings. This is not a reflection on a mother being sad or feeling that she is losing her son, but a choice in color. There are some amazing dresses for mothers that come in black, black and white, or black and silver. This is a daring and even elegant choice in color for any mother to wear.
3. Bolero Jackets
You may want a dress that has a small jacket instead of a full or long jacket. Perhaps you just want something that will accent your dress. Many mothers' dresses have bolero jackets. The jackets may not provide warmth but they do provide a nice accent to the dress and will give your mother of the groom dress a finished look.
2. Romantic Lace
Many mothers of the groom, or bride dresses have lace cover ups that come with them. Some are jackets with sleeves and some are just to be wrapped around the shoulders. Some styles of dresses have lace over the satin or silk material of the dress that adds a soft and romantic touch to your choice.
1. Cocktail Dresses
When your son is getting married in a more casual setting during the day you can choose a cocktail style dress. You may not want a little black dress, so a shorter and more casual dress is appropriate. The advantage to this type of dress is it can be worn for other occasions. No matter what mother of the groom dresses style you end up choosing, your son will love seeing you in a fun dress, celebrating his happiness, and being there for him. With so many styles available, you will find the perfect dress for your son's special day.