Top 10 Amazing Red Prom Dresses That Will Make Your Friends Jealous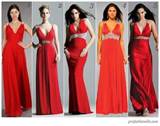 Everybody wants to look amazing for their prom, and there is no better way to do it than by choosing a beautiful, warm, and sexy red prom dress. Red is a very warm color that is often associated with energy, passion, desire, and love. Red is also an extremely versatile color, and is available in many different shades, which makes it a perfect prom dress color choice for almost everybody. As you'll find below, red prom dresses are available in a wide variety of styles and materials, from soft satin and lace dresses and bold sequined styles, to dresses that are extremely sexy with thigh high splits, and low cut necklines. You'll be sure to find one that will be the envy of all your friends.
10. Strapless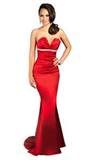 A strapless dress is a dress that has no straps or sleeves. A strapless red prom dress is a very sophisticated, elegant look that is ideal choice for showing off a beautiful necklace and allowing arms to move freely. Wear a simple or detailed necklace and you'll shine in this red dress at prom.
9. A-Line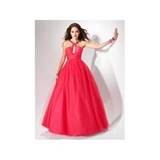 A line prom dresses are a classic style and red is a classic color. A-line dresses are typically wider at the bottom and get gradually smaller as they move towards the top, making the dress appear to be shaped like the letter A.
8. Feathered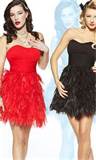 Red feathered prom dresses are a modern fun style dress that almost everyone will enjoy wearing. Feather dresses come in a variety of different styles and lengths. You can find short and long red feather prom dresses. You can also find strapless feather dresses, and feather dresses adorned with sequins.
7. Sleeved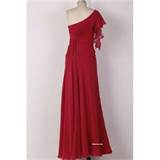 Prom dresses with sleeves are extremely popular this prom season. Sleeved dresses can have long sleeves, short sleeves, or only one sleeve. You can also find red sleeved prom dresses in many different cuts, styles, lengths, and designs.
6. Short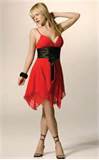 Traditionally, prom dresses are long, flowing gowns. But in a modern society, short dresses are also perfect for almost any prom or other party such as a homecoming dance. Short prom dresses in red are available in many styles and designs, and because they are very different from most traditional prom dresses, you are bound to stand out and turn heads.
5. Hot Pants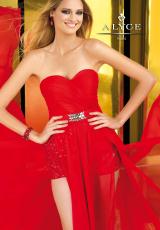 If you want something completely non traditional, a sexy hot pants prom dress may be the answer. These hot pants prom dresses have tightly fitted shorts that are often beaded underneath a loose and flowing skirt. The skirt is designed so that the hot pants and the wearer's sexy legs can be easily seen.
4. Mermaid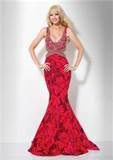 Mermaid style dresses are beautiful and extremely popular. Traditionally, a mermaid style prom dress will have a wide, flared skirt that starts about mid calf and drapes down to the floor. Above the mid calf area, the bodice is usually fitted up to the neckline. Mermaid style prom dresses are fantastic for showing off a hourglass figure.
3. Halter Neck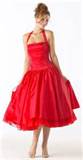 A halter neck dress has two straps, cords, or bands that attach either side of the bustline and meet at the back of the neck. Because of the strap style, many halter neck prom dresses are backless, or at least semi backless. A halter neck dress is a perfect choice for ladies with larger breasts because the halter neck offers some additional support.
2. High Low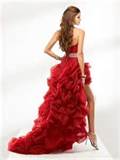 Red high low prom dresses incorporate the best of both a long and short dress. They typically have the glamour of a long evening gown or ball gown, and the modern style and comfort of a shorter dress. High low dresses are available in many different styles, all of which are designed to show off your legs and fashionable shoes.
1. Sequined Prom Dresses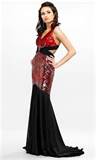 There are many different styles of sequined dresses that are suitable for a prom. Sequins can be used to add a subtle sparkle to a longer, formal style gown, or they can completely cover a shorter or more fitted dress for an amazing look that will light up a room. This is perfect if you don't want to go with all red prom dresses and want a bit of other color, even if it's just a shimmer reflection from the room around you that's caught by the sequins.