Top Ten Best Places for Honeymoon Vacations For Water Lovers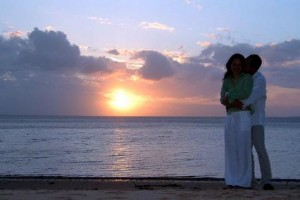 One of the most exciting times for a couple is when they get to embark on their honeymoon. This quality time spent together is much needed for a couple who has spent many months planning a wedding. Choosing the right place to honeymoon involves finding a place that both parties can enjoy. It is not always easy to compromise on one destination, however, if you settle upon something you both like, such as skiing, or swimming, or just a love for water, you can choose more easily. In this top ten we will detail the top ten best places for honeymoon vacations around the world for water lovers.
10. Cancun
Cancun is a popular destination for couples to honeymoon, and with beautiful beaches you definitely enjoy the water. The inexpensive hotels offer a great luxury Mexican vacation. Instead of paying high resort fees and expensive dining, couples can obtain all inclusive packages to make the trip more affordable. The city of Cancun offers close proximity to many sightseeing adventures. Part of the Yucatan Peninsula, couples can visit the Mayan Ruins.
9. Hawaii
Many people only dream about visiting Hawaii one day. The warm climate and gorgeous ocean views make Hawaii one of the best places for honeymoon vacations for water lovers. Located in the US, couples flock to this location for several reasons. There is no need for a passport for US citizens making it easy to travel.
8. Fiji
Fiji's barrier reef provides water loving couples the ability to snorkel and scuba dive among the most beautiful waters. The Bouma Falls National Park is one of the highlights of honeymooning in Fiji. Seeing the waterfalls is very romantic and offers couples a site they cannot get anywhere else.
7. Turks and Caicos
This remote island is one of the perfect spots for couples to spend time together. The remote island is very small and serves tourists more than anything. Windsurfing and scuba diving are just a couple of the many activities couples can enjoy together. The resorts are full service and provide everything you would need while they're on vacation.
6. Venice, Italy
Venice, Italy is one of the top spots for finding romance, especially through the water canals. While most couples have no problem being romantic on their honeymoon, the area resonates romance in every way. The old style buildings and churches are popular for exploring. Couples love taking wine tours to try out all the different tastes of the area. Bicycle tours let couples explore the country scenery while spending time together. Dining on authentic Italian food is one of the highlights of vacationing in Italy.
5. Myrtle Beach
Myrtle Beach is a great place to visit on a honeymoon. It is one of the top cities visited in the US. Couples can enjoy the beach and all the surroundings. There is tons of shopping, boating activities, The seafood restaurants are great and you can find many wonderful ocean view restaurants along the strip. The city of Wilmington is not far and couples can explore the retired battleships and be casted as an extra on a movie at the Provisions movie company.
4. St Thomas
Many people enjoy honeymooning in St. Thomas because there is something to do for everyone, especially those that love the water. The men can play golf while the women check out the shops. When couples want to spend time together they can enjoy the many activities going on in the water. St John is only 20 minutes away so couples can island hop to see more.
3. Bahamas
Many couples enjoy honeymooning in the Bahamas because of everything it has to offer. Nassau and the Grand Bahama Island are two of the more popular areas to vacation at. Many couples love to stay at the Atlantis for gambling and trying their turn on the huge slides. Couples can dine on the cliffs or play a round of golf.
2. Key West
For couples who love the nightlife along beaches, Key West is the place to be. This hopping honeymoon spot has a bar type seen 24 hours a day. Couples can relax by the ocean and join in on many festivals and events that happen throughout the year.
1. Bali
The tropical island of Bali resonates a serene atmosphere. Here couples can just relax in their huts and have their own private beach to lay by. If you really want to go all out, you can have a full service staff that waits on you day and night. While dining in Bali couples get to experience some of the most amazing foods of the area. On the beaches of Bali you will find the best place to honeymoon if you are a lover of water.