Top 10 Romantic Wedding Cake Designs For A Summer Wedding
One important detail of your wedding day is your wedding cake. In fact, no wedding reception is complete without it. It may seem just a usual décor or detail during weddings but, it is actually one of the highlights in wedding receptions. Couples should take time in thinking about what kind of a wedding cake they prefer for their wedding. How many layers? What flavor? What cake topper to choose? Should it be the traditional cake or combined with cupcakes? All these wedding cake designs must be taken into consideration.
To give you a better idea, here are a few tips on the top 10 wedding cake designs for a summer wedding:
1. Fruit Decorated Wedding Cake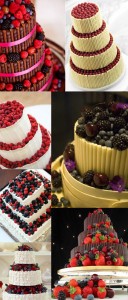 Summer marks abundance and color. For a summer wedding, it is best to have a wedding cake design topped with different fruits. It can be fruits in season or fruits that will match your wedding motif. Guests will not only enjoy eating your wedding cake, but will even be more satisfied with the fruitful flavor.
2. Yellow-Colored Wedding Cake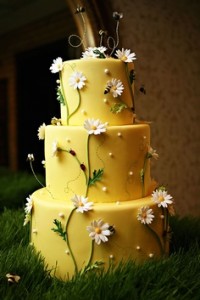 A popular color during summer is the color yellow. It signifies brightness and light, and it invites a cheerful ambiance. You can opt to have a yellow-themed wedding cake decorated with yellow flowers, natural or artificial. It would definitely catch everyone's attention at your wedding reception. Your yellow wedding cake is perfect with the bright lights of the summer season.
3. Peach with Threaded Flowers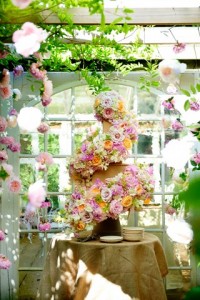 If you want a more feminine touch in your summer wedding cake, you might want to check out a peach-colored cake with threaded flowers all over it. Flowers can be artificial – the sugary-kind of toppers that kids on your wedding day can also enjoy the wedding cake. Peach combined with pink, yellow and green pastel colors will be a very attractive wedding cake design.
4. Butterfly-Themed Wedding Cake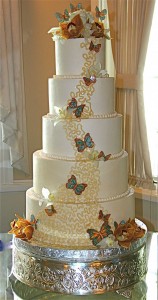 Since the summer season is where the flowers are in bloom, you might want to add elements of summer as your wedding cake design. One of which is the butterfly-themed wedding cake. Colorful flowers, when in bloom, attract butterflies. Butterflies are a joy to watch as they fly from one flower to another. Make this an inspiration in coming up with your summer wedding cake.
5. Beach-Inspired Wedding Cake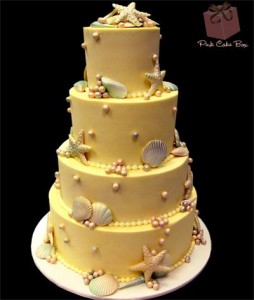 Another icon during the summer is the beach. This beach-inspired wedding cake would be best for couples having a beach wedding during the summer season. You can use starfish, seashells, and fishes as decorations in your wedding cake. Anything that symbolizes the peaceful shore and underwater details would be appropriate for a summer wedding cake.
6. Sunflower-Decorated Wedding Cake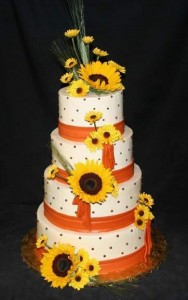 A popular flower that blooms in summer is the sunflower. Its bright and circular shape is similar to the sun. Almost everyone can relate that sunflower symbolizes the summer season. Do not think of too much complicated details, but stick with the traditional. Sunflower decor as your summer wedding cake theme would be a sure hit.
7. Vintage-Inspired Wedding Cake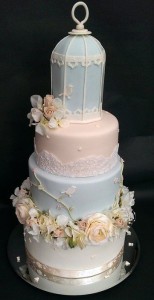 For those who would want a touch of vintage, a bird cake vintage summer wedding cake would be nice. It depicts the simplicity and elegance yet, keeps up with the summer theme. Birds, bird cage and some flowers are all elements of the summer season and the pastel color adds up to the vintage theme.
8. Rainbow Wedding Cake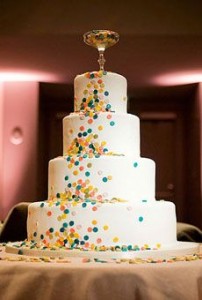 Since summer gives a joyful mood for everyone, a colorful wedding cake would be just right. Couples can choose to have a cake filled with rainbow colors. It can be decorated with a rainbow cake topper or you can simply ask your chef to spread out rainbow color chocolates in your summer wedding cake. This will be a sure hit for kids and adults present on your special day.
9. Bright Summer-Colored Wedding Cake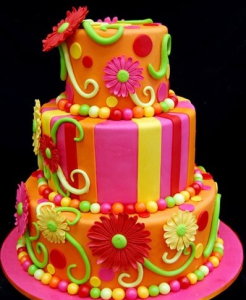 Choose to be a little quirky and unique by using bright summer colors for your wedding cake details. Bright colors are highly appreciated during summer. So, your guests will appreciate a bright-colored summer wedding cake. Expect it to be an attraction at your wedding reception.
10. Mini Cheesecakes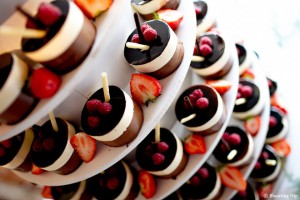 A good alternative to the traditional wedding cakes is to stack up mini cheesecakes topped with cherries or strawberries. The smooth and creamy texture of cheesecakes will be a sure winner with your guests. You can actually infuse different flavors such as lemon, vanilla, or chocolate to surprise your wedding guests. They can just choose from the cheesecake tiers and enjoy the flavorful desert on your summer wedding day.
Your Choice
Whatever summer wedding cake design you have chosen, make sure to consider what your guests will like. After all, the wedding cake is meant to be shared with people closest to you and is present during your special day. Make your wedding cake design as a fun-filled as the summer season.