Top 15 Wedding Reception Ideas Do's and Don'ts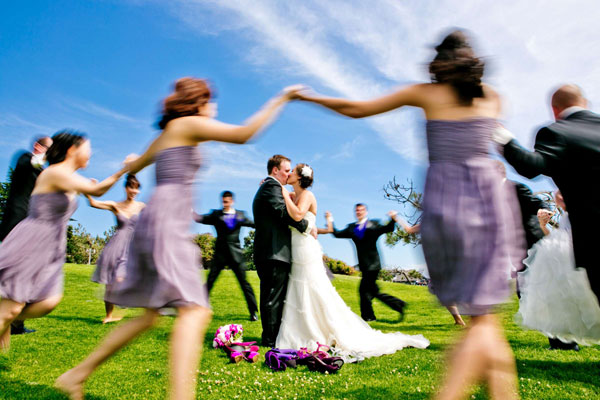 Your wedding should be one of the happiest moments of your life. But let's face it – planning it can be a daunting task. Of course, you need to make sure that everything is planned accordingly; otherwise it can turn into a party-planning misery. Fortunately, you don't have to go through potential wedding pitfalls along the way. Simply take the advice of those people who have been there. In this post, we've compiled the top wedding reception ideas do's and don'ts that will guide you toward a successful wedding.
1.  Do: Be a guest at your own wedding
Obviously, all you want is your wedding to be perfect. But remember, no matter how meticulous the planning is, something might still go wrong – that's unavoidable. So don't fixate your focus on the details, and worry if they're going according to plan. The thing is you've been waiting and planning for this for a long time, so don't forget to enjoy the moment. The lesser you worry, the more you'll enjoy your big day!
2. Don't wear too much makeup
Naturally, the bride would want to stand out in her own wedding. However, it doesn't mean you should overdo your makeup or try to be daring with it. Simple and natural is still the best. Remember, photographers will take photos of you that will last forever; so don't overdo your makeup that will potentially ruin your look.
3. Do: Have a backup plan
One of the most important wedding reception ideas that most couples recommend to successfully get through your wedding day is to have a backup plan. As mentioned, you can't expect that everything will go as planned during the celebration. So it's best to always have a contingency plan to avoid making any possible issue worse. For instance, if you're having an outdoor celebration, make sure to have an alternative location available, in case of unexpected bad weather.
4. Don't be a "Bridezilla"
There's nothing uglier than a selfish and stressed-out bride. Weddings are indeed stressful, but don't become outrageously bad, especially if things are not going as planned – because they never do! Just try to enjoy your big day, and don't panic if minor problems occur. After all, that's the job of your wedding organizers – just let them take care of the details. It's your wedding, so relax, smile, and have fun!
5. Do: Set-up a lounge space for guests who don't want to dance
Not everyone at your party likes to dance, so it's best to set-up a separate area for them to relax and enjoy, like a food bar, a photo booth, a drink station, or a table game.
6. Don't spend too much on your wedding reception
A glamorous reception with expensive foods and decors is not what makes a successful wedding. Remember, your wedding is an event intended to gather people who are important to you together. But more than anything, it's a celebration of you and your partner's love. It doesn't have to be expensive just to make it the best event of the year. There are couples out there who got married in a simple location and yet experienced the best time in their lives. After all, you probably don't want to end up in debt after the wedding, right?

7. Do: Keep your guests entertained
Guests go to a wedding to witness the love of two people and show their support to the couple. However, they also attend the party to have fun! So don't forget to organize some games, special numbers, or other activities at your party to entertain your guests.
8. Don't go overboard on decorations and other details
Being creative and unique is very important when it comes to your wedding. But again, you shouldn't overdo the details. This is especially true if you're on a tight budget. Don't make decisions that you are unhappy about just to please others. In fact, if you can go for simpler details, go for the
9. Do: Book a venue that is the right size
The venue is one of the important details in a wedding, so make sure to pick the right one. The recommended space for a wedding is not so large that it can be too spacious, nor too small that it can be suffocating. The space should be just right for the number of guests, having only little decoration. Most importantly, it should be situated in a beautiful location with proper ventilation and amenities.
10. Don't go crazy with DIY stuff
DIY projects are definitely recommended, especially if you want to save some cost for the wedding. But usually, these are done by those people who have an innate creativity and skills. If you're not a hands-on type individual and don't want to spend time crafting things, then don't drive yourself crazy folding papers and sticking glitters until midnight. Try to get the help of others, or if you can, just buy the things you need for the big day.
11. Do: Hire a great caterer
Sometimes, it is advisable to just hire someone you know or make the food preparation yourself to save some cost for your wedding. But some couples recommend hiring a top chef for the most significant day of your life. Remember, you'll only get married once, so it's definitely just right to get the best service available. If budget is of concern, just invite fewer guests. A top-shelf caterer provides an outstanding food and service.
12. Don't set-up a cash bar
While it is often necessary to cut costs for your wedding, setting up a cash bar is not a good idea. Forcing your guests to reach into their pockets every time they wanted to taste some drink is offensively impolite. Remember, you invited them to witness your union and enjoy the celebration, so why ask them to pay for something while they're there? There are many ways to make your guests happy while staying on your budget. Ask your caterer or organizers for lower-cost options.
13. Do plan a destination wedding
Destination weddings are terrific. They don't only offer a wonderful reception for you and your guests, but they also provide a memorable vacation for all. Who wouldn't want to explore the other side of the city or experience the breathtaking view of the mountains?
14. Don't forget what the wedding is really all about
No matter how long the planning is, your wedding will only last for a few short hours. Your guests will wow over your beautiful dress, they'll be in awe at the lovely centerpieces, and they'll enjoy the delicious foods at their tables. However, if you think about it, all those things are just part of the wedding – and there's more to it than that. While you're enjoying the celebration, don't forget to talk and smile with your better half. Give him a hug, or hook your hands together even while talking with others. In the end, it's not the dress, nor the flowers that matter – it's all about you and the man you love!
15. Do thank everyone for coming to your wedding
While it may be difficult to have a chance to have a long talk with everyone at your wedding, at least try to make an effort to thank each guest for coming in attendance. You don't necessarily have to sit with them and chat about certain things, but at least find an opportunity to say your "thank you" sincerely. Don't forget to thank those people who help you prepare your wedding, even the ones you paid.
There are a lot of do's and don'ts when planning for a perfect wedding. But these top 15 wedding reception ideas will surely help you keep clear of the pitfalls that come along with weddings.