10 Fun Alternatives to Using a Unity Candle
The symbolism behind the unity candle, joining two flames into one, is one of many rituals that couples incorporate into their wedding ceremony. So much so, that it is the No. 1 ritual performed around the United States. If you want to break away from tradition and add something unique and fun as an alternative to using a unity candle, here are a few ideas that you and your finance can incorporate into your wedding ceremony.
10. A Cord of Three Strands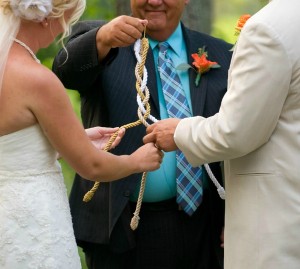 A cord of three strands (also known as God's knot) is very similar to the unity candle ritual, except that it uses three strands of twine or heavy-duty string coming together as one. Any color of twine or string can be used. Traditionally, the man and woman create a braid together to symbolize the joining of their union along with the couples faith in God. This braid can later be displayed in the home as a reminder of this bond.
9. Handfasting or Binding of the Hands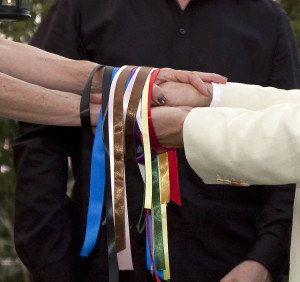 Handfasting or Binding of the Hands is a marriage ritual taken from Ireland and Scotland. In this ritual, the couple holds hands to create a figure eight  or resemble the infinity symbols. Six ribbons of equal length are draped over the couple's hands while the pastor or priest talks about the symbolism of the binding. A knot is then tied and the couple present their tied hands to those in attendance. This ritual is typically performed prior to the exchanging of the rings.
8. Love Letter Ceremony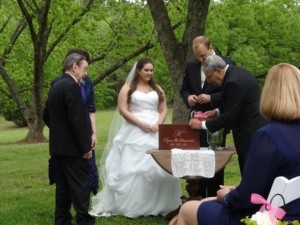 A love letter ceremony allows you to write your thoughts and feeling about each other and lock them away in a special box. The box may also contain wine glasses and your favorite bottle of wine. Traditionally, the box is not open until several years after you are married, with most couples opting for either their 5-year or 10-year anniversary to unlock and share the memories.
7. Sand Ceremony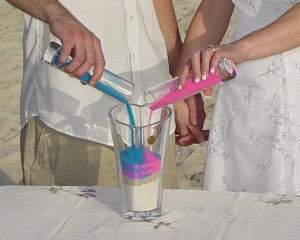 The sand ceremony involves two different colors of sand, each representing the groom and the bride. The couple pours their sand alternately into another container to create a piece of sand art. The symbolism behind this ceremony is the mixing of each others sand to create one piece and represent unity.
6. Plant a Tree Together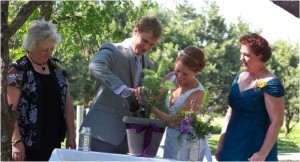 The tree ceremony is a popular choice to symbolize the growth of a relationship over time. In this ritual, a container, dirt, and special tree are used. The couple plants the tree together, and the planting is blessed by the priest or pastor. As the tree grows, the couple can find a special spot in their yard to plant it and continue to watch it grow.
5.  Wine Ceremony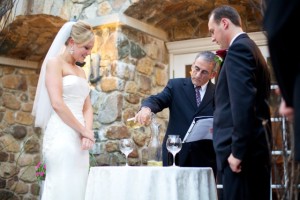 The wine ceremony is a special ritual that is blessed by the officiant. The couple chooses their favorite bottle of wine and it is uncorked by the officiant. It is poured into one or two separate glasses. As the couple take a sip, the officiant speaks about how good wine is like a good marriage, and that it takes time to nurture and allow the marriage to grow, much like the grapes on the vine. Another option for this ceremony is the blending of two different wines such as red and white into one single glass.
4. Unity Wish Lantern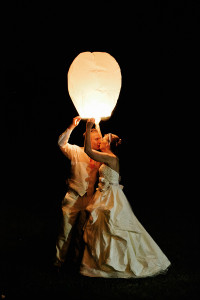 A wish lantern is a fun ritual that you can opt to have your guests participate in too. These small, biodegradable lanterns are made from rice paper and hold a small candle which is lit. You can choose to have this ritual in the middle of your ceremony or after you have said "I do." The lantern symbolizes letting your love reach it's highest potential.
3. Unity Painting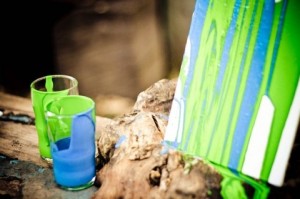 Painting at a wedding ceremony may seem a little strange, especially with a white dress. However, the unity painting has gained popularity as a unique way to show your bond and have an item to look at for years to come. To protect the bride and groom's clothing, aprons are suggested. A small 9 by 12-inch canvas, with two paint brushes and two paint colors is often used to create a special painting that the bride and groom did themselves. You can also use paint in a glass and pour it over the canvas to create work of art. Best of all, these items can be purchased at your local craft supply store.
2. Lei Ceremony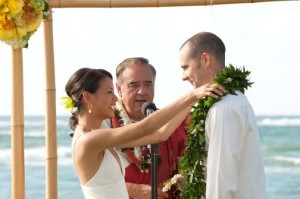 A lei ceremony is a tradition from the islands that involves the exchange of floral leis between the bride and groom to symbolize honor and the desire to spend the rest of ones life with the other person. In addition, the lei ceremony also involves the parents of the groom and bride. Leis are give to each set of parents as a symbol of respect and gratitude.
1. Padlock Ceremony
The symbolic padlock ceremony is popular throughout Europe as many couples go to a public area to place a padlock around a fence or other item. The key is then tossed into the nearest river. To incorporate this ceremony into your wedding, you can use any type of padlock or purchase a padlock etched with your names. The lock is placed on a special canvas frame or framed iron tree and locked, while the key is attached to a helium balloon and let go.
Anyone of these alternative ceremonies or rituals are perfect for replacing the unity candle in your wedding. Many of them allow you to have a keepsake to remind you of your special day and your new life together.